Experience One Of The LARGEST and FINEST Selections Of Seafood On The West Coast!
Priding ourselves on the largest selection of live seafood on the West Coast, Quality Seafood is a unique dining experience. Take it to go to fix at home, or have us cook it for you. Everything can be cooked and eaten onsite. So come down, lay out some newspaper, crack some crab and enjoy a beer. There's no place like it!
65 YEARS OF "QUALITY TIME" IN REDONDO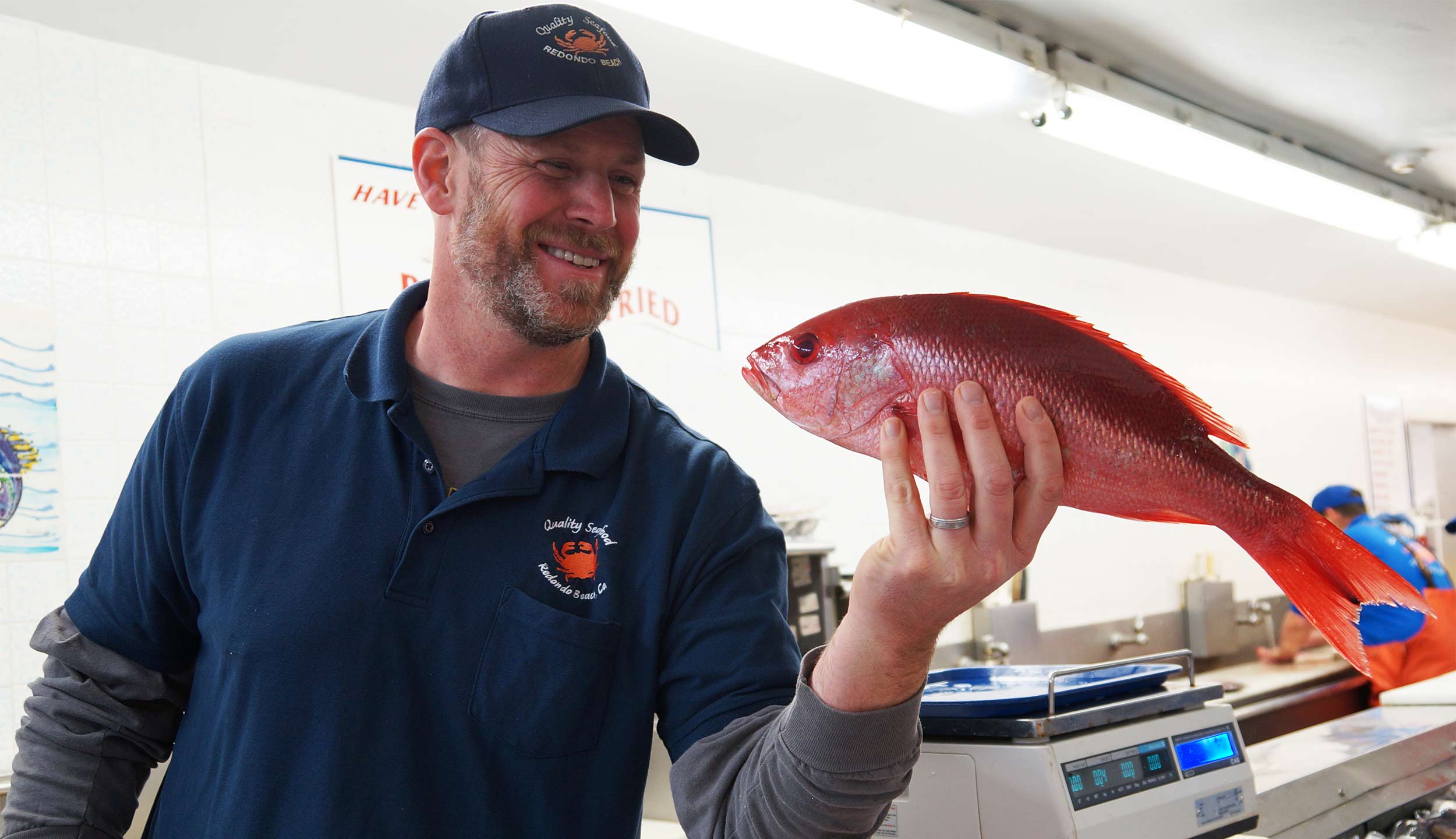 Well, 65 years have passed since Nick Dragich and his son, Peter bought a small fish market on the Redondo Pier, and called it Quality Seafood, (You can read all about our early days, and our roots here).  65 years ago there was no way to know that a small fish market would become not only one of the largest on the West Coast, but also a destination for friends and family, a landmark, and piece of so many peoples' special occasions and celebrations.
It hasn't always been smooth sailing, it was certainly tough when we lost our spots up on the original pier. We didn't know where we would go, or if our customers would find us, but they did! Our customers became less interested in taking home fish to cook and more interested in having us do the cooking for them, so we adapted, and opened a kitchen. From there, things really took off!
Join us on Redondo Beach's International Boardwalk
Not only do we pride ourselves on having one of the largest selections on the West Coast, we pride ourselves on freshness. We buy from local fishermen, we work with fish auctions in Hawaii, and we buy direct from suppliers around the world.
It's what we're known for, it's our hallmark, we are truly a destination for Crab lovers around the world. If you're from Maryland, Florida, Louisiana, Seattle, N. California, or right here in Redondo Beach, and you grew up eating crab, this is the place to come.
Quality Seafood's Snack Bar area is where you get even more of the good stuff. If you want award-winning clam chowder, calamari, lobster bisque, fish and chips, boardwalk lobster rolls, and fried clam strips, then this is where you want to go.
The "Bar" at Quality Seafood provides much more than just refreshment. This is the stop for drinks, Crab Hammers, butter and sauces, smoked fish, and other goodies. We offer 14 beers on tap, with several handles rotating through a great mix of craft brews.
Fast Atmosphere
It's here! The California Dungeness Crab season is finally here! We know many of you have been waiting and wondering if the season would open, and if there would be another Quality Seafood "Annual [...]
Fast Atmosphere
Love Lobster? (We won't be offended if you don't, but if you do...) We will be having our "Annual QSF Lobster Fest" every day in September! This is also the only Lobster Fest in [...]
Fast Atmosphere
Mid-November brings with it many memories, emotions and anticipations. Without doubt, many people are preparing for Thanksgiving, getting ready to travel, or take in visiting friends and family. It's also time to dust off [...]
Quality Seafood in Redondo Beach
Take a video tour of Quality Seafood, King Harbor's finest seafood market, then come visit us on the International Boardwalk!